What you need to know about G13 antifreeze and coolant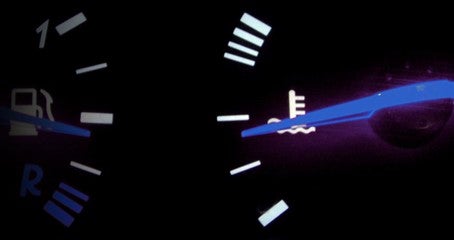 In 2013, vw introduced the G13 specification for antifreeze and coolant. How is it different from its predecessors G11, G12, G12+ and G12++? Read on to discover the differences once and for all.
Let's take a quick look at the different VW specifications. Throughout the years their antifreeze specification has evolved, with the latest (G13) established in 2013.
| | | |
| --- | --- | --- |
| G11 | 1994 | VW TL 774 C |
| G12 / G12+ | 1996 | VW TL 774 D/F |
| G12++ | 2005 | VW TL 774 G |
| G13 | 2008 | VW TL 774 J (OEM Part Number: G013A8J1G) |
Glycerin based, so environmentally friendly
The G13 has a purple/violet colour and has the same exceptional cooling and antifreeze performance as G12++. The main difference: it is manufactured using glycerin instead of glycol. Glycerin is much less harmful to the environment than glycol. One is a bi-product of biodiesel production, the other is produced from mineral oil.
It is estimated that the manufacturing of G13 produces 11 % lower CO2 emissions than antifreeze with glycol.
Next to protection against freezing, the G13 is also excellent for cooling and protection against corrosion and chalk deposits.
Silicate additives for use in radiators with aluminium
G13 contains some silicate additives for that additional healing aluminium protection. This is contrary to some earlier specifications that use OAT-technology (Organic Acid Technology). Silicate additives make G13 ideal for long-term use in all modern radiators, especially those constructed from aluminium, cast iron and magnesium alloys.
On the other hand, G13 is not the best choice for older cooling systems with copper/brass radiators and heater cores. It doesn't work well with the lead solder. Use antifreeze with G11 or G12 specification instead.
How to upgrade to G13 from an older type of antifreeze
For modern radiator types, G13 antifreeze is backward compatible. However, we recommend thoroughly flushing your cooling system when upgrading from a different type of coolant. This keeps the cooling system pure.
Can't flush your cooling system? Check this table to see which types you can safely mix. Wolf offers G11, G12+ and G13 specified coolants.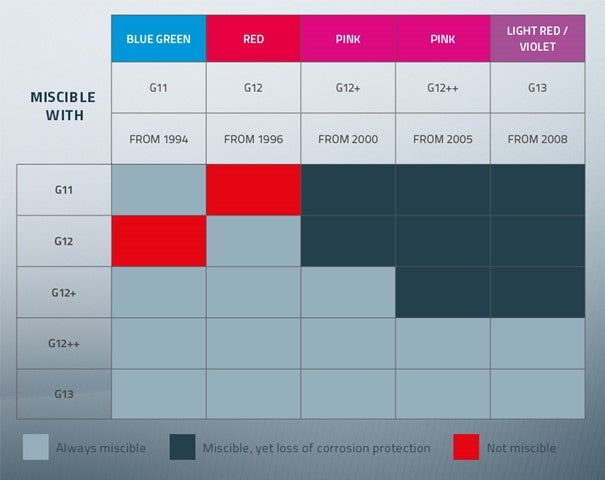 Note: dilute antifreeze with distilled or deionized water to a 50/50 concentration in order to reach a protection temperature of – 36 ° C. Normal tap water varies in pH, mineral, and chemical content and can harm your new antifreeze and cooling system.
Discover our Anti-freeze Longlife G13 and our Coolant -36°C Longlife G13.
Summary:
The G13 has the same exceptional cooling and antifreeze performance as G12++, but it is manufactured using glycerin.
Glycerin is much less harmful to the environment than glycol.
The G13 is also excellent for cooling and protection against corrosion and chalk deposits.
It is ideal for long-term use in all modern radiators