Wolf becomes official lubricants partner of the FIA World Rally Championship (WRC)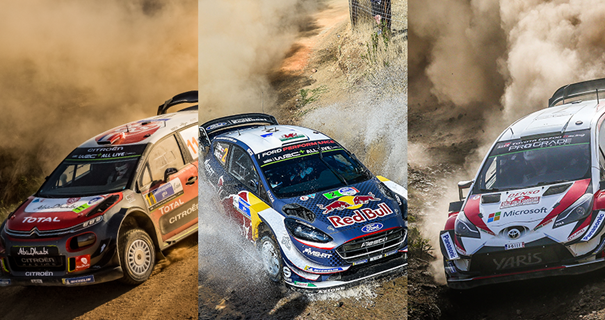 Wolf is delighted to announce its new partnership for 2019 with the leading name in global motor sport: the FIA World Rally Championship.
New partnership drives further growth for the Belgian lubricants specialist
Wolf is delighted to announce its new partnership with the leading name in global motorsport: the FIA World Rally Championship.
From 2019, Wolf becomes the official and exclusive lubricants partner of WRC, in a move described as "a partnership of companies committed to the very best in vehicle performance ".
As Frédéric Decroix, Global Marketing Director explains, "Wolf Lubes is committed to delivering the highest levels of quality and performance, with products that set new standards of reliability and protection. The announcement of this new partnership builds on the brand's continuous international growth of the last years and rings in the next phase of development. With Wolf's drive for exceptional engineering and precision in everything we do, we will be able to bring our story closer to the motorsport fans and driving enthusiasts. The FIA World Rally Championship is a partner that sets the benchmark in high performance rallying, with drivers and co-drivers who take their vehicles to the very limits, testing their engines to the extremes. We are very proud to be associated with the WRC, and its millions of fans across the globe."
Reaching a global audience
Rather than sponsor a specific team, Wolf Lubes is a sponsor of the WRC itself, as Frédéric Decroix explains, "Our products are known to deliver high performance, meeting and often exceeding the latest industry standards and OE specifications which is why they are approved by the world's leading car manufacturers. This highest level of performance can only be achieved by relentless focus on every single detail. What may seem trivial to others matters to us. Extensive preparation, in-depth market knowledge, and a strong teamwork can all make a significant difference. In our rapidly changing industry, just as in the WRC, you need to be well-prepared and be able to anticipate what will happen next. It's about leaving nothing to chance. This is why our partnership with the WRC is the right one."
For WRC too, the link with Wolf is a natural fit, as Oliver Ciesla, Managing Director of WRC Promoter, explains. "Lubricants are an essential part of motorsport and it's gratifying to bring a major independent player onboard, especially one with such innovative, focused and forward-looking strategies in its field. Both WRC Promoter and Wolf Oil Corporation are enjoying international growth and share future objectives. I'm excited that Wolf Oil Corporation has joined the WRC's growing portfolio of premium partners with its Wolf lubricants brand."
For more information about WRC, please visit the official website.